Word by Francesco Pattacini
Chris and Ben Shepherd are two euphoric, enthusiastic and emphatic father and son from the UK countryside, in which they founded Pastore Brewing and Blending. This funky project, dedicated to mixed and wild fermentations, is one of the new breweries at the center of an increasingly wild scene which is gaining ground in UK, without any fear or limitation.
After years of filling the house with every type of microorganism possible, the Shepherds decided at the end of 2020 to open a wild brewery, combining to a long maturation cask line, a more pop and fast production, which reinterprets the classic styles with acidic and low alcohol content. In their Waterbeach headquarters, that has inspired the name of their already iconic Berliner Weisse that has put them on the map, the Lactobacillic and Brettanomycist religions find an unprecedented meeting point, which passes through Italy and took its origins from a wild apple, the place where they synthesized the fetal version of their mother yeast that, over time, is not only characterizing their sparkling sour IPAs or hyper-saturated Pastry beers, but is the main medium – researched, studied, challenged – with which they express themselves.
We find them behind one of the long Acido Acida British Sour Festival counters, on the penultimate day of its ninth edition, intent on tapping liters after liters of DDH, Saison, Barley Wine, in the already crowded porticos of Santa Maria della Consolazione, in Ferrara, Italy. For Pastore Brewing these are important days, because their participation marks their first time as a brewery in Italy which, as they will tell us, is part of their history, inside and outside the craft beer world.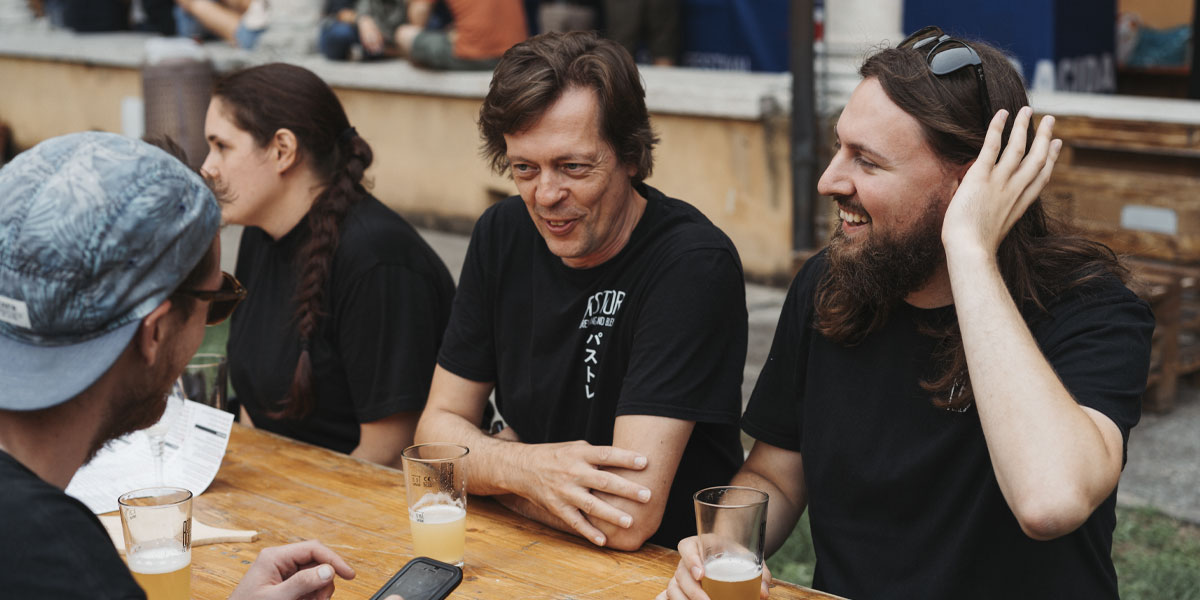 While we are talking Ben and Chris exchange jokes and retrace their memories, and it is easy to imagine them before the founding of Pastore Brewing and Blending in UK, on one of those Sunday afternoons that they will have spent in the garage thinking around the first beers to brew, mashing the malts and discussing about what went well and what did not: "I brewed beer for many years as a homebrewer, that's where I built my background starting from traditional British beers", Chris tells us, "Almost immediately, however, I started to get closer to Belgian beer, this was 30 years ago, when it was still not very popular in the UK. In those days few people knew what Belgian beers actually were, but this was sometimes true of anything else outside the UK. I liked their combination of tradition and yeast work and so I started trying to make it at home and experiment with these styles as Ben grew up, until he was old enough to drink it and we started making it together."
From milk to beer, perhaps not necessarily one after the other, at home Ben finds his first approach to beer: "I started to get into the beer probably with the Thornbridge productions", Ben remembers, "at that time I used to live in Sheffield which is close to the brewery. Drinking their beers certainly opened my eyes and, then, when I got home there was dad's Belgian beer. This is probably what ultimately led us to experiment with mixed fermentations. We come from two different experiences, somehow, for dad it has always been the historical Belgian beers, spontaneously fermented or those from the Flanders. I began to approach spontaneous American fermentations, thanks also to the book American Sour Beers to learn a little about how they are produced. And then, for a couple of years, we started a homebrewing project to produce this type of beer in the UK. We wanted to create our mother culture and, slowly, this path led us to the idea of ​​Pastore Brewing and Blending. But we still weren't 100% sure that we would start a real brewery".
So Chris and Ben started experimenting with mixed fermentations at home, aiming to find the meaning and the truer taste of a home micro-ecosystem, invading the house with cultures and liters of crazy yeasts: "It was interesting because we had always this interest in beer and the most disparate styles. Trying to learn how to make mixed fermentations for sour beers was a long and difficult project. I mean, it's fun, it's fun and it's fundamental. But it's not like something you can learn to do overnight. " "It took time", Ben urges, "It was a time when every room in the house was full of mini fermenters".
"At a certain point Yolanda, my wife and Ben's mom, started to tell us:" WHAT DO YOU THINK TO MAKE MY HOME? ". After a couple of years, we began to develop a style and understand how to approach it, what worked, what didn't. At that time Ben was graduating from Edinburgh's Master of Brewing and I think that's where the real inspiration came. We realized that sour beer was what we wanted to do. In 2018 Mills Brewing had started doing really great things, so we thought, we have this interest and this passion, we know how to do it, we have a place to start. Meanwhile Ben has attended and talked to many people in Edinburgh as part of his Brewing Masters, and I think he has developed some very clear ideas on what could make our productions interesting in the UK. We spent two weeks talking about it, and we thought, yes, we can do it, it's time, otherwise everyone else will and we will be left behind. So we felt it was time to start our own business and try to follow in our own way the vanguard of the sour beer revolution that is taking place in the UK. "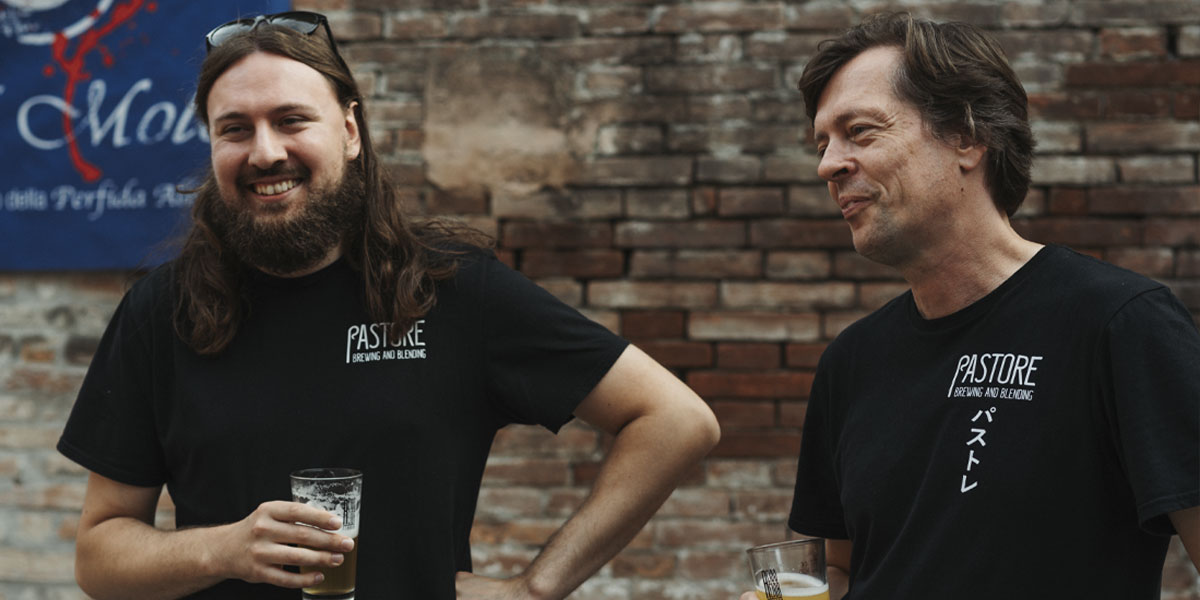 A FAMILY APPROACH
The goodness of a family project is, like all things in life, the fact that the situation evolves. During the master in Edinburgh Ben actually discovers the world of American mixed fermentations and begins to fantasize about the possibility of combining the funky component that a yeast like Brettanomyces can develop with the possible lactic contaminations of Kveik yeast, but everything starts from the dream, and from the goal, to create their own home yeast: "That's how it went, we put our mother culture together by starting to capture the yeast under one of the wild apple trees in our garden, in a village called Impington, just north of Cambridge , which is very close to the brewery we have in Waterbeach today. We were sure we had found something fun and original. From there we started, trying to obtain fermentation characteristics that we liked. We tried mixing it with a blend of some commercial Brettanomyces, then with Lactobacillus, and again with others yeasts from some of our favorite wild breweries by picking them straight from their bottles. In short, it was a great melting pot of different cultures. We then started fermenting with each of these trials until we found the flavor profile we really liked. It's funny today to think that originally that yeast lived in 30-liter mini tanks in our home while now it is in 1000-liter stainless steel tanks, and that we continue to feed it and use it in the brewery".
In absolute terms, the house yeast  can be conceived and interpreted as a sort of indelible mark, chisel and signature through which the brewery shapes and creates its own expression, from which it starts to represent its own idea in terms of tastes, production and culture, far beyond the simple fact of 'making beer': "I think that every good sour brewery develops its own culture. It is just an expression of the brewery. It depends on the location, on the geography, makes up the terroir and perhaps also the personality, in a certain sense, of the brewers. And that's very true because we knew Ben and I liked slightly different things, but we both always had a strong idea of ​​what we wanted to do and accomplish. We like acidity, but we knew we wanted a delicate and round one. When we captured wild yeasts, looking for their taste in different wild beers, we knew the results could have been very different. Summarizing our mother culture, we actually put what we are inside, we were very happy to be able to express our idea and what we love about mixed fermentations. We have built the entire brewery around this. It is fantastic. When I look back, I am amazed on how we did it and how happy we are for what we have achieved".
I still remember the day we were bringing the first liter of culture to the brewery. I had it between my legs. My father drove. We took it from our home along these back roads to the brewery and then threw it into a thousand-liter tank. Inside that bottle there was our whole business and our whole idea of ​​what we wanted to do, being extremely careful not to move it too much, slowing down at every crossroad. It all started from there.
This 'mark' for Pastore Brewing, from UK crosses the Italian roads, a family bond that tells their story, that is reproduced in the names of their beers (Zuppa Inglese, Bamboccione, Budino Atomico ..) and in their enthusiasm when, just before the festival, we found ourselves talking about where to eat and have new experiences that recurs continuously in their words.
"Our relationship with Italy is something truly fantastic. My name is Shepherd and I am English, while my wife Yolanda's mother comes from Salsomaggiore and came to England around 1949, where she met her husband and they settled in London which is the place where I met Yolanda. There has always been this double thread with our part of the Italian family and Ben has always had a strong bond with his grandmother. When we were thinking of setting up the brewery, we were arguing about the names and there was no question. We wanted it to reflect this Italian heritage in some way, particularly with Ben's grandmother. His grandmother has always been a supporter of Ben before and after the brewery. We wanted all our beers to reflect these happy memories".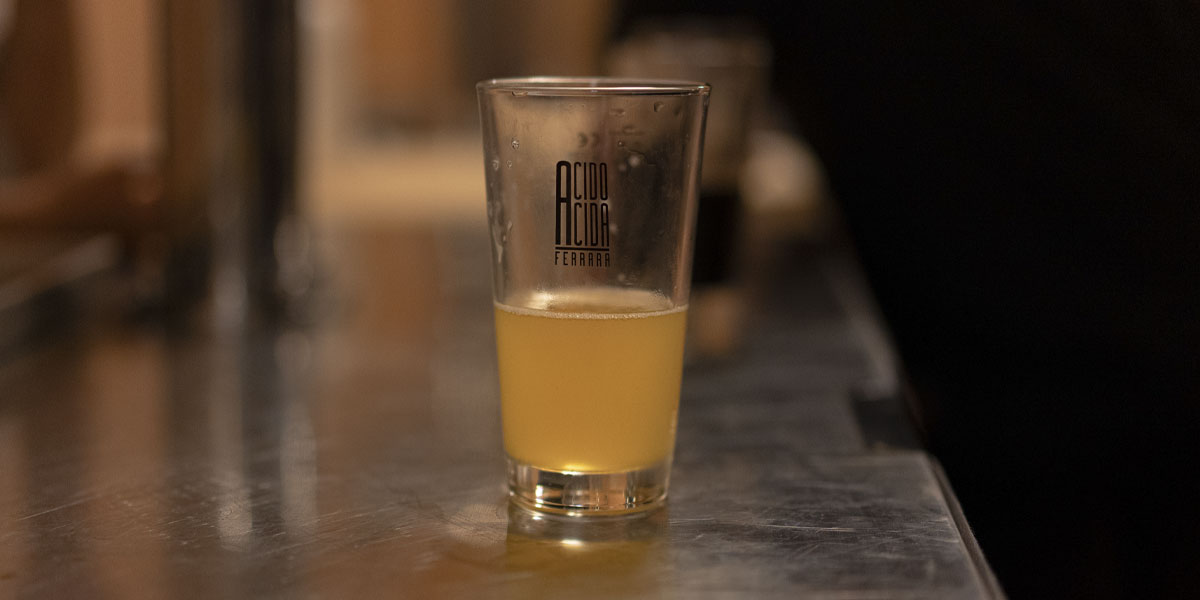 BE SOUR OR GO HOME, PASTORE BREWING AND THE WILD SIDE OF UK
Once the original liter of the yeast of the house was safe in the brewery, Chris and Ben have inaugurated the path of Pastore Brewing and Blending by focusing directly on acidity but not only on long fermentations but on faster-developing creations, alternating the two realities of the brewery to bring a fresh alternative, continuously in rotation, and a more complex and stratified one: "We are 100% sour and wild, but sour and wild remain separated. We wanted something that was a faster, mixed culture, co-fermented with lactobacillus. Brett and Kveik ferment together at less than 30 degrees, acidifying and fermenting the beer at the same time. We can then add fruit to the acid base and have acid beers with a month of fermentation. That's the thing my dad was talking about when I was in Edinburgh. It was there that we began to discover the first works of Vault City and, above all, those of Johnny Horn of the Hanging Bat, which is a famous craft pub in Edinburgh and has a small 50 liter brewery in the back. They had started making Sour IPA with a mixed base, with hints of fruit and these beers were exceptional. I was seriously impressed with their work and wanted to know how to prepare them as well as how to make them with wild fermentations. We were in the midst of conception of our mother culture, trying to figure out how to make monthly turnarounds that could represent a fresh and acid mix for our culture. We didn't want to make classic lagers or IPAs or anything else. We wanted to make sour and we wanted to do it right, without taking shortcuts. And we wanted this to be something acidic, dry, refreshing, easy to drink. This is how our first Berliner Weisse and Sour IPA were born. We talked a lot with Johnny and obviously with Vault City, even though we took different directions with Pastore. I believe, in some way, that this is where a part of the UK sour scene was born, from these mixed fermentations and these experiments".
Right from the start, as mentioned, for Pastore the road was directed towards the separation of the two projects but, while barrel aged rise over 10 degrees, with super saturated and intense bloom in the barrels, the beer produced in steel show an incredible shift based on low alcohol content, freshness and drinkability to help the drinker discover the sour world: "One of the lines I care about most is not one of the first we produced, but which has changed our plans a bit since we decided to start focusing on sour and low alcohol content. We started with Limone, which is just a Sicilian sour lemonade with 2.5% alcohol, obtained with our co-fermentation. We started by imagining a beautiful summer day in the park. In the UK, people have started to prefer low alcohol beers and it is great. I think actually one of the main focuses of the brewery, which we haven't talked about yet, was sour and wild mixed fermentation, showing people that it can mean a wide range of things. You can't just say sour beer and think someone knows perfectly what it is. Some of our beers can stimulate certain questions such as: is this really a sour beer? I do not know. But there is the sour, the fresh, there is the wilderness of time spent in the barrel, there is the wilderness of stainless steel, there is the sour IPA, there is the Pastry sour. We don't have lambics we don't do spontaneous sours, but the sour world is opening up to a lot of different experiences in this sense ».
When we talk about to sour beer, it's a huge world. We often get people at festivals to tell us: I love sour beer, but you can't really know what they mean. Do they mean a Fruit Sour? Do they mean a Lambic? And often people have very different reactions to our beer, it's not what they expect. But this is part of the exciting times we all find ourselves pushing different beers and trying new things. The public is generally very willing to try them and that's what makes our work really exciting. It doesn't always happen, but often it does. This is probably because many of our beers, the fruity and fresher ones, which have virtually no hop bitterness, seem to open up a whole new range of possibilities. I love it and it's great and exciting to be able to do it.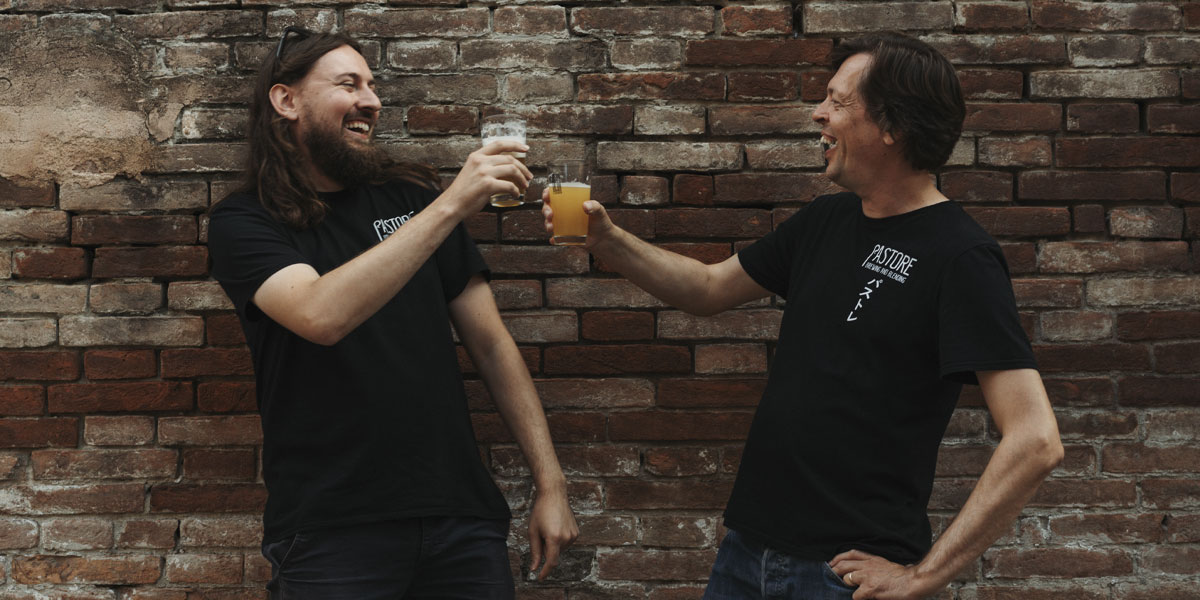 It is almost impossible not to be part of the enthusiasm of the Shepherds which, together with Dan Wye added in 2021 as a support to production, manage to produce sour beers with swirling tones. More than a matter of taste, the work of the yeast supports a production as closely as possible linked to what they are, with continuous contaminations that renew and never let the microbial culture grow old. As for experiences, or for Italy, Pastore represents a starting point for a craft scene that focuses more and more on this trend but always finds new ways to express itself. Before saying goodbye to them, for the traditional dinner they talk about in a restaurant here in Ferrara, we then ask them how they think people can approach sour without fear:
Chris: "I always tell people not to judge at the first sip. The palate needs time to adjust to something new and then you get used to it. And often people, after the third or fourth, are like, oh, yeah, wow, that's really good. I don't know how it translates into Italian, but in English the word sour has rather negative connotations. It is often used for expired milk, for example. It means something not good, it has a lot of negative connotations. But there's a beer for everyone out there, and when you consider sour and mixed fermentation, it extends the range of flavor profiles and how it interacts with foods. It's incredible and I think it can open up a whole world, right? "
Ben: "That's absolutely true. We were trying to create a palate experience that could surpass this unfortunate generic term of sour beer, because it is a wide range of beers within that taste extremely different. I think in the end it is essential to create a beer that is always accessible and this concerns a very wide range of flavors, ranging from lactic, fermented, lively, acidic, dry, refreshing. This is where we started".
Photo by Lorenzo Pasquinelli x Beeer Mag, 2022 ©
No allowed use without consent.
Follow us on Instagram